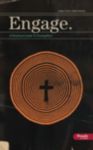 The simple truth of the gospel does not change. And while this truth is timeless, we must always evaluate the presentation of that truth to make sure it's connecting in a culturally relevant way. Engage is a practical study examining the act of sharing your faith. Engage answers questions like, How do you begin a conversation about Jesus? What if they have questions you're not sure how to answer? What do you say if they respond positively or if they reject God's message?
Threads Bible studies help you start and sustain small groups, Sunday School classes, and all manner of Bible studies designed to introduce young adults to Jesus and to help them grow as Christians. Get started right now with these FREE resources!
More from Threads
Here are some more great resources from Threads.